Established in 2014, Property Entrepreneur™, one of the UK's leading business in property training programmes has been oversubscribed every year for the last five years despite ongoing expansion in a bid to accommodate demand.
Property Entrepreneur currently delivers two 12 month, personal development and business in property training programmes a year.The first, 'The Property Entrepreneur Programme' educates 60 clients a year on how to master the unique and proven step-by-step blueprint and methodology that enabled PPN UK to become one of the UKs Leading Property Groups, doubling in size every year for 5 years and winning multiple awards for its growth and performance.
The second, 'The Board' mentors 10 established Property Entrepreneurs a year who are Market Leaders in their field to take their companies to next level utilising advanced business models and strategies including high level fundraising, market positioning, mergers, acquisitions and niche or emerging, highly lucrative property investment and development strategies.
Due to the success of clients on this year's Property Entrepreneur Programme and over 60% of Property Entrepreneurs requesting to repeat for a second year, Property Entrepreneur have committed to adding a third tier to its training, launching the 'Property Entrepreneur Advanced Programme' starting in October 2019. This brand new 'Property Entrepreneur Advanced' programme accommodating a maximum of 40 clients a year will be positioned as the level above what has now been renamed 'The Property Entrepreneur Programme', a level below 'The Board' and is open to established Property Entrepreneurs only. Having recently secured the venue and dates for 'Property Entrepreneur Advanced' at The Belfry Golf and Spa Resort, the multiple award winning home of Property Entrepreneur, enrolment opened last month to all existing Property Entrepreneurs to receive huge demand with this brand new programme selling out in only 7 days.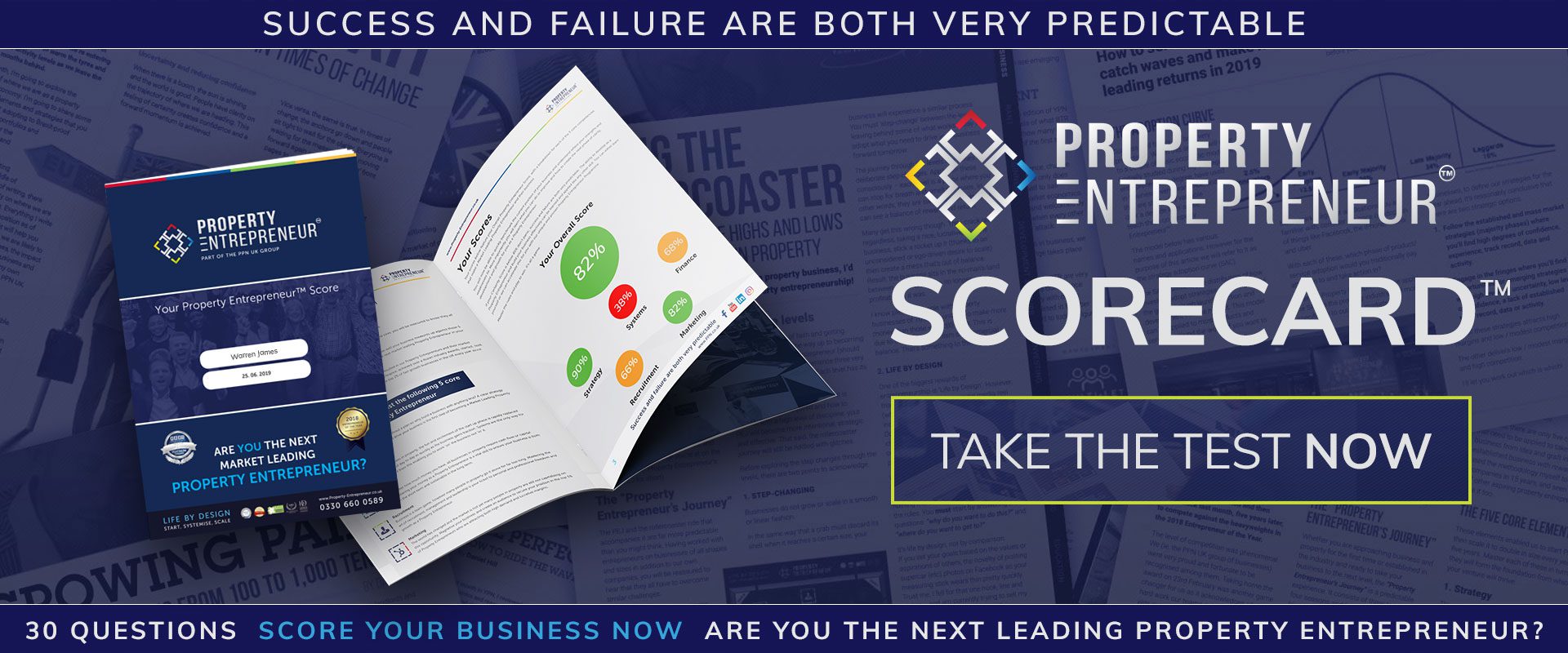 Enrolment for the next 'Property Entrepreneur Programme' starting October 2019 does not open until Monday, 8th July however friends and family members who are recommended by established Property Entrepreneurs are now being offered VIP Enrolment to secure their places ahead of launch. All other interested parties waiting to enrol have the opportunity to join the Early Access Waiting List online now to receive prior notification and early access 24 hours ahead of the open market launch.
Congratulations to all that have already secured their place on Property Entrepreneur for the year ahead. We wish you all the best as you join some of the UKs Market Leading Property Entrepreneurs to take your business to the next level from October 2019.
Success and failure are both very predictable
Property Entrepreneur™
Part of the PPN UK Group